Original Skoda Men's T-shirt RS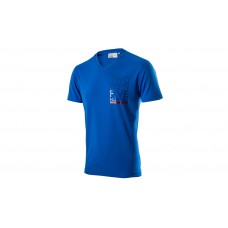 Condition : 100% Brand New
Brand : Skoda
Theme : Original Skoda Men's RS
Men's functional V-Neck T-Shirt with multicolor graphic print on the chest made from recycled and sustainable material with technology S.Café which is fast drying, UV-protective, odor-control and moisture-regulating.
Color Race blue
Material 54% polyester 46% S.Café polyester
For who Men
S.Café ® fabrics provide a comfortable feel combined with functional qualities for all outdoor and lifestyle activities.
S.Café ® fabrics will provide excellent odor control, UV protection (5 times more UV protection compared to cotton) and fast drying benefits.

You can choose the following sizes, when ordering please write what size you send
size S - 5E0084200A
size M - 5E0084200B
size L - 5E0084200C
size XL - 5E0084200D
size XXL - 5E0084200E
size XXXL - 5E0084200F