GENUINE SKODA Interior PAD – Carbon Look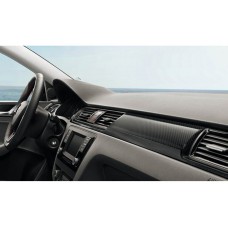 Condition: 100% Brand New
Brand: SKODA
Theme: GENUINE SKODA Interior PAD – Carbon Look
Item: 5JB072390
Those who want to inject a touch of individuality as well as an unmistakeably sporty yet elegant air to their vehicle interior need look no further than the carbon-look interior PAD from the ŠKODA Original Accessories range. With the PAD applied to the instrument cluster, you can add a truly original touch to your vehicle interior. The interior PAD is made from flexible plastic. Simply remove the old PAD for the instrument cluster and fit the new one in its place. For an attractive vehicle interior, we recommend the items in the small leather collection to complement the carbon-look interior PAD.
Content of set: Right cover, left cover, fitting instructions.
Package content: 3 piece
Restritions: Only for vehicles manufactured to CW 21/2017. Only designed for left-hand drive Rapid vehicles and the replaceable instrument cluster PAD.
Maintenance: Maintenance-free – if required, wipe clean using a piece of fine cloth dipped in mild soapy water. Do not use abrasive cleaning agents or chemical solvents.
DESIGNED FOR:
Rapid (2012-2020)