Škoda 1202 Delivery (1965) 1:43 - Mobile Shop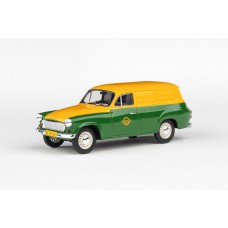 Theme : Abrex Škoda 1202 Delivery (1965) 1:43 - Mobile Shop
item: 143ABSX-729FA02
Age : 14 +
Warning : Choking Hazard
The Škoda 1202 was a car classic concept, which was developed and produced in the vrchlabském race the RAPID and was also an upgraded version of the previous type of the Škoda 1201, from which the type 1202 differed mainly find a snappier making body.


"Dvanáctsetdvojka" originated as a makeshift replacement exerted by the trambusového utility vehicle, which later became her successor, Škoda 1203, whose development was accompanied by countless complications that realization greatly opožďovaly and interrupts.

Among the most frequently produced variants of the Damage 1202 belonged to the estate version (STW) and the ambulance, then also delivery, pick-up and a hearse. Over the years 1961-1973 was produced around 60 000 vehicles.