Skoda Superb III 3V FaceLift Front Bumper Strip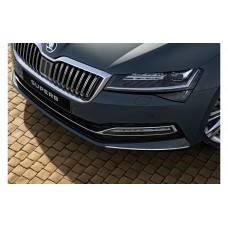 Theme : Skoda Superb III 3V FaceLift Front Bumper Strip
item: 3V0071004B
Notice Attention: Only for ŠKODA SUPERB (3V) Facelift.

With the ŠKODA Superb, the boundaries between understated design and practical functionality become blurred. The chrome strips for the front and rear bumpers lend the vehicle a distinct air of luxury, thereby achieving a look that is both fresh and attractive. The chrome strip for the front bumper is made from durable ABS, which retains its shape and colour over time. All parts of the strip are shaped to perfectly follow the contour of the front bumper edge, to which these parts are adhered. The strip has passed ŠKODA's quality tests. Even though it looks easy to adhere these, we recommend having this work carried out by an authorised ŠKODA AUTO service partner. Once the specified time has elapsed after adhering the strip for the front bumper, the vehicle can be washed in a car wash.
Material ABS plastic Chrome
Content of set Front bumper strip – left (x 1), front bumper strip – right (x 1), fitting instructions.
Weight 0,15 g
Maintenance Maintenance-free – the vehicle can be washed in a car wash, using conventional cleaning agents if possible. Do not use abrasive cleaning agents.
Restritions It cannot be used for Laurin & Klement and SportLine and Scout version vehicles.
Fixing To adhere the strip to the front bumper, the following components must be ordered from the Dow range: Betamate 2810, Betaprime 5404.
Placement Adhered to the edge of the front bumper.
Assembly Time: 80 TUs
Associated products:
Rear bumper strip – chrome / 3V0 071 004A
Stainless-steel foot pedal covers
- for left-hand drive vehicles with manual transmission / 5E1 064 200
- for left-hand drive vehicles with automatic transmission / 5E1 064 205
Decorative door sill covers / 3V0 071 303