Skoda Octavia IV Spare wheel set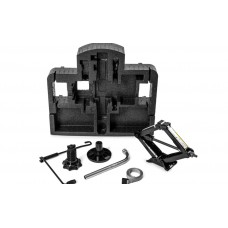 Theme : Skoda Octavia IV Spare wheel set
item: 5E3093860
Some drivers want to maximize the chances of arriving at their destination even if they suffer a puncture. That's why they prefer to have a spare wheel rather than an emergency tyre repair kit. Those drivers will benefit from this spare wheel set, which includes all the tools necessary for a roadside wheel change, neatly stored in a polystyrene box and stored inside the spare wheel so it doesn't take up precious space in the luggage compartment.
Spare wheel set
– contains all the tools necessary for a roadside tyre change,
– all the tools stored neatly in a polystyrene box,
– box secured in the spare wheel well by a woven strap with a buckle.
The spare wheel itself is not a part of this set. It can be ordered from the ŠKODA Genuine Accessories catalogue, using the number 5E3 601 011B. Detailed instructions for using the spare wheel can be found in the car's User's Manual.
Color Black
Material Polystyrene
Content of set Polystyrene box, fixing bolt with a nut, strap, car jack, jack handle, wheel wrench, luggage compartment floor support, fitting instructions. Restritions Not suitable for cars with the ŠKODA Sound System (subwoofer in the spare wheel).
Fixing Inside the spare wheel.
Fit:
Skoda Octavia IV ( 2020 - )