Skoda Octavia IV NX Decorative door sill foils 3D Carbon design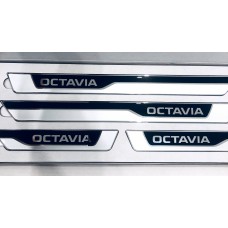 Theme : Skoda Octavia IV NX Decorative door sill foils 3D Carbon design
item: 5E3071310A
Decorative side door sill cover foils from the ŠKODA Genuine Accessories range are an accessory that can be used to enhance your vehicle's aesthetics. They protect the paintwork around the front door sill from dirt. They are NOT designed to be stood on when getting into (or out of) the vehicle.
Decorative side door sill cover foils
- perfectly match the contours of the vehicle sill,
- are held in the designated position by self
-adhesive tape adhered to the underside of the foils,
- are manufactured using high
-quality, laminated foil and feature the Octavia logo in silver.
Material: Polyurethane
Color: Carbon - look
Set contents: Front door sill covers (2), rear door sill covers (2), installation manual.
Installation position: Glued on the front and rear door sills.
Maintenance: Commercially available cleaning agent. Do not use abrasive cleaning agents, solvents or scourers.
Fit: Skoda Octavia ( 2020 - )