Skoda Netting system for Karoq grey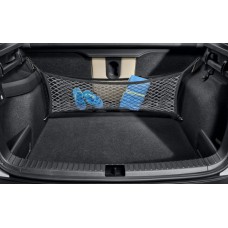 Condition : 100% Brand New
Brand : Skoda Theme : Skoda Netting for Karoq grey
Item: 57A065110E
The netting system from the ŠKODA Genuine Accessories range is both a practical and attractive addition to the luggage compartment. It is designed to secure transported items or luggage and prevents them from sliding around when the vehicle is on the move, thereby also preventing any damage. The net is fitted by hooking it onto the metal lashing eyes on the vehicle floor and to the locking mechanism for the rear seat backs in the luggage compartment. The elastic netting has undergone strength tests and is designed to hold items weighing up to 1.5 kg.
Specification of product:
Material: Elastic netting / plastic
Colour: Grey
Set contents: Transverse net, instructions on the packaging
Load capacity: The nets´ maximum load carrying capacity is 1.5 kg
Limitations: Only for vehicles with standard rear seats and a false boot floor. Considering possible damage to the netting, the user should not use the nets to transport objects with sharp edges and Velcros.
Fastening: Secure by hooking the carabiners into the metal lashing eyes on the vehicle floor, then the rubber eyes onto the locking mechanisms for the rear seat backs.
Maintenance: Hand wash in lukewarm water (30 °C) with liquid detergent.
Designed for: ŠKODA KAROQ (NU)