Stainless-steel foot pedal covers for RHD Octavia II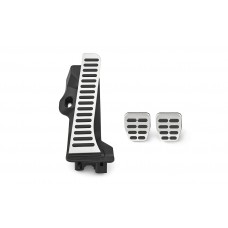 Brand : Skoda Auto
Theme : Stainless-steel foot pedal covers for RHD Octavia II
Item: 1Z2064200
Pedals with stainless steel covers are important in giving the car's interior a sporty feel. With these pedals, the driver's footwell gains more visual appeal and their silver colour matches the chrome accent in the interior. The covers also add to the sporting feel from the driving and thanks to the rubber spots, your feet will never slip from the pedal. This three piece set includes covers for accelerator, brake and clutch. It is designed for right-hand drive cars.
Material: stainless steel
Designed for cars:
- Octavia II (produced 2004 - 2013) - RHD
- Octavia Combi II (produced 2004 - 2013) - RHD

Notice: We recommend a professional installation service partners at SKODA AUTO.