Set of rubber foot mats for Octavia II RHD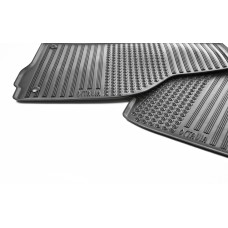 Brand : Skoda Auto
Theme : Skoda Set of rubber foot mats for Octavia II RHD
Item: DCC600102A
Rubber mats are very practical if your car is operating in very dirty environment. Their ability to protect the car's interior without consequences will be most appreciated during trips to the countryside, to the garden or for sporting activities, as well as during rainy weather, sleet and muddy roads. These mats are made of high-quality rubber and can be cleaned easily. Raised edges prevent the dirt from getting further and Octavia lettering makes them more attractive.
Material: rubber
Packaging: 2 front and 2 rear mats
Colour: black
Designed for cars: Octavia II (produced 2004 - 2013)
Notice: This set is designed for right-hand drive cars only.