Skoda Multimedia Holder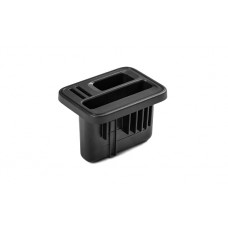 Brand : Skoda Auto
Theme : Skoda Multimedia Holder
Item : 000051435AD
The multimedia holder is one of the additions to the varied ŠKODA Genuine Accessories portfolio. This practical holder ensures comfortable manipulation with your mobile phone, music player or another media device and its quick accessibility. No more looking for a ringing phone in your briefcase or handbag. Simply place the multimedia holder into the opening for the drink holder in the central console panel and you will always have your phone at hand. The holder may only be used for mobile phones or other audio devices suitable for the opening in the holder in terms of dimensions. The hardened plastic body of the holder ensures its stability while the soft plastic inset protects the inserted audio device from damage. The multimedia holder is by no means a substitute for an ashtray and may not be used to store flammable objects.
Material: Body ABS + PP/PC, insert TPE-SEBS
Color: Black
Size: 80 x 15 mm, depth: 60 mm larger pocket size: 8,3x1,8 cm, depth approx. 6,5 cm smaller pocket size: 4.3x2.3 cm, depth approx. 4 cm
Installation position: Multimedia Holder place in space for holding drinks, which is located on the center console.
Fit:
- Skoda Superb II & III
- Skoda Octavia II & III
- Skoda Rapid
- Skoda Fabia II & III
- Skoda Roomster
- Skoda Citigo
- Skoda Yeti
- Skoda Kodiaq
- Skoda Karoq
- Skoda Kamiq
- Skoda Scala