Exhaust pipe end piece for Octavia II 2.0 TDI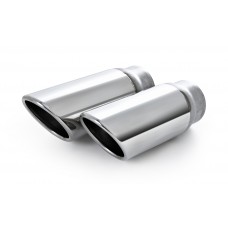 Brand : Skoda Auto
Theme : Exhaust pipe end piece for Octavia II 2.0 TDI
Item: FDC610002
Oval stainless steel exhaust tail pipe is another detail that can make your car more attractive. It looks better than the stock exhaust and its silver colour nicely stands out from the rear bumper. Thanks to the material used, it is also very rust resistant. This tail pipe is welded to the original piece.
Octavia and Octavia Combi from CW45/2008 with 1.6 TDI engines. Tailpipe is not intended for 4x4.

Material: stainless steel
Colour: silver
Designed for cars:
- Octavia II (produced from 2008 to 2013)
- Octavia Combi II (produced from 2008 to 2013)
Notice: We recommend a professional installation service partners at SKODA AUTO.