Exhaust pipe end piece for Octavia and Superb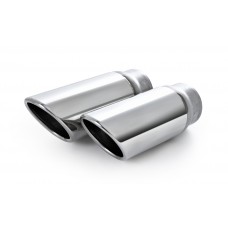 Brand : Skoda Auto
Theme : Exhaust pipe end piece for Octavia and Superb
Item: FDC620001
Twin stainless steel tailpipe is another detail that can make your car more attractive. It looks better than stock exhaust and its silver colour perfectly complies with the rear diffuser. The choice of material contributes to excellent rust protection. It is welded on the original exhaust pipe.
Material: stainless steel
Color: silver
The tailpipe is designed for:
- Octavia and Octavia Combi 4 x 4 from CW45/2008 to 2013 with 1.4 TSI, 1.8 TSI, 2.0 FSI and 1.9 TDI engines
- Octavia and Octavia Combi 4 x 4 until CW 45/2008 to 2013 with rear bumper spoilers FAA 610 002 and FAA 620 002-3 with following engines: 1.9 TDI, 2.0 FSI and 1.8 TSI
- Superb (3T) with diffuser FAA 800 002 1,6 TDI/ 77 kW and 1,9 TDI/ 77 kW engine

Notice: We recommend a professional installation service partners at SKODA AUTO.