GENUINE SKODA OCTAVIA III COMBI Transverse roof rack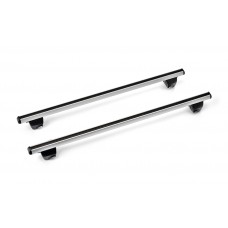 Condition: 100% Brand New
Brand: SKODA Auto
Theme: GENUINE SKODA OCTAVIA III COMBI Transverse roof rack
Item: 5E9071151
ŠKODA Original Accessories will always offer you what you need right now, and it is always the best and most secure solution for your car. Naturally, this also refers to the rooftop carriers on which a larger cargo can be transported favourably. It is very easy to secure the transverse roof carrier to the roof rails – simply flip the eccentric lever down and you're done. Thanks to the so-called T-slot, they are ready for the installation of, among other things, bicycle and ski carriers or boxes. Easy fitting – carrier to be secured with tilting the eccentric lever to the bottom position. Resistance and rigidity of the carrier was confirmed by the successfully passed City Crash test, which proved that an impact of specified intensity will not separate the transported articles so these articles cannot endanger the safety of the passengers.
Material Steel Plastic Anodized aluminium
Dimensions Front – 1168 mm, rear – 1143 mm.
Content of set Front bar, rear bar, keys (x 2), fitting instructions.
Restritions Only for Octavia Combi vehicles with roof rails fitted.
Notice The weight of the load to be transported (including the transverse roof rack) on the vehicle roof must not exceed 75 kg. In addition, the maximum permitted vehicle weight must not be exceeded.
Load capacity 100 kg
Placement Fastening into the joint between the door and the roof.
DESIGNED FOR:
- Octavia III (2012-2017)
- Octavia III (2017+)
NOTICE Maximum carrying capacity depends on maximum roof carrying capacity stated in the vehicle registration papers (100 kg).