GENUINE SKODA ENYAQ Alloy wheel VISION 21"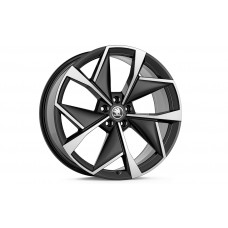 Condition: 100% Brand New
Brand: SKODA Auto
Theme: GENUINE SKODA ENYAQ Alloy wheel VISION 21"
Item: 5LG071491K FL8
The 21-inch VISION alloy wheel are a perfect fit for modern and dynamic design. In the variants with the battery with gross capacity of 82 kWh or higher, the ENYAQ iV is fitted with the wheels different sizes on the front and the rear axle. This helps achieve sufficient traction that's fitting to the extraordinary dynamics of the electric car. The light alloy wheels will also impress with their quality and durability. They went through a series of rigorous tests that confirmed their longevity and safety. They are cast as one piece of the light aluminium alloy, which is covered with a thin layer of extremely hard, heat-resistant finish. The possibility of fitting the wheels to a specific car needs to be confirmed with the car's documentation.
Information for 8.5J x 21" ET40 wheels: This wheel is designed to be used on the front axle and on the rear axle of the cars with the gross battery capacity of 81 kWh or less. For cars with the gross battery capacity of 82 kWh or higher, use the 9.0J x 21" ET42 wheel 5LG 071 491L FL8 (tyre 255/40) on the rear axle.

Color Black metallic
Material Alloy
Rim Diameter 21"
Rim dimension 8,5J x 21" ET 40
Tyres dimension 235/45
Snow chains possibility No
Weight 18,3 kg
Maintenance Wheel rim cleaner, gel / 000 096 304C. Do not use abrasive cleaning agents, solvents or scourers.
Notice For the ENYAQ iV alloy wheels, we recommend using tyres with "+" mark and Seal technology, which enables you to drive without any problems even with the puncture in the tyre tread.
Content of set Alloy wheel, ŠKODA wheel centre cap, fitting instructions.
Warning Please verify the suitability of these wheels for your car in the large registration book. Bolts are not included in pack.
Usage Front and rear axles for iV 50 and iV 60 models. Front axle of iV 80, iV 80x and RS iV models.

DESIGNED FOR:
Enyaq (2020+)