GENUINE SKODA DataPlug for Connect LITE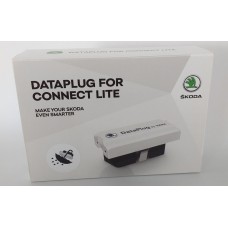 Condition: 100% Brand New
Brand: SKODA
Theme: GENUINE SKODA DataPlug for Connect LITE
Item: 000051629A
We live in a world where "connectivity" plays a vital role in practically every situation. Using your smartphone and the DataPlug adapter from the ŠKODA Genuine Accessories range, you can access your vehicle's varied array of functions. The DataPlug is compatible with most ŠKODA models manufactured since 2008 and works in combination with the ŠKODA Connect LITE app.You can download this app free of charge from the Google Play Store (for Android devices) or from the App Store (for iOS devices). In order to make full use of the services, you also need to register. Simply connect the DataPlug adapter to your vehicle's diagnostic port (OBD2 interface) and pair your mobile to the DataPlug via Bluetooth. The entire installation and registration process should take no more than 10 minutes. Once complete, you can call up journey data and information about the condition of your vehicle, as well as improve your driving style, optimise fuel consumption, manage your log book and much more. Full information about how to use ŠKODA Connect LITE can be found at www.connect-lite.com
Material ABS plastic Sheet metal
Content of set DataPlug, instructions for use.
Restritions Only remove the DataPlug from the diagnostic port after the ignition has been switched off.
Fixing Connect the DataPlug adapter to the vehicle's diagnostic port (OBD2 interface).
Usage Call up information about your vehicle on a mobile phone using the Connect LITE function.