R16 alloy wheel TWISTER in silver design for Skoda OCTAVIA IV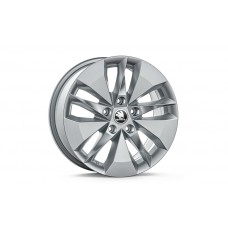 Brand : Skoda Auto
Theme : R16 alloy wheel TWISTER in silver design for Skoda OCTAVIA IV
Item: 5E3071496A 8Z8, 5E3071496A8Z8
The alloy wheels from the ŠKODA Genuine Accessories range are available in numerous designs and a wide variety of colour schemes for each vehicle model, ensuring that you can emphasise the individuality of your car, making it truly one of a kind. The originality of the design of the alloy wheels embodies a successful combination of quality, functionality and aesthetics.
Alloy wheels
- are produced by casting aluminium alloy, after which an extremely hard, heat-resistant coating is applied,
- are designed to have a good weight distribution. This has a positive effect on reducing the centrifugal force. This results in improved acceleration and deceleration dynamics,
- have undergone rigorous testing, during which the stresses at every single point on the wheel are tested. This ensures that they are of exceptional quality and are roadworthy.
Color Silver
Material Light alloy
Rim dimension 7,0J x 16" ET 46
Number of bolts 5 piece
Snow chains possibility No
Weight 9,5 kg
Maintenance Wheel rim cleaner, gel / 000 096 304C. Do not use abrasive cleaning agents, solvents or scourers.
NOTICE Please verify the suitability of these wheels for your car in the large registration book. Bolts are not included in pack.
Set contents: Alloy wheel, ŠKODA wheel centre cap, fitting instructions.
For tyres: 205/60 R16
Fit: Octavia IV (2019+)