Original Skoda 2-in-1 screen cleaner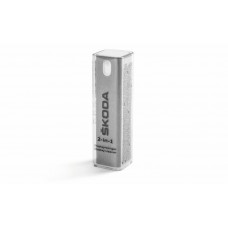 Condition : 100% Brand New
Brand : Skoda Auto
Theme : Original Skoda 2-in-1 screen cleaner
Item: 000096311T
This practical set comprises a cleaning agent and a high-quality cleaning cloth in a modern, minimalist design – a 2-in-1 that thoroughly cleans the screen, keeping it looking impeccable. The cleaning fluid and microfibre cloth ensure that any dirt or annoying fingerprints are completely removed. Spray the cleaning agent evenly on the screen, then use the microfibre cloth attached to the container to wipe the screen clean. Shake well before use. To be used for cleaning the infotainment screen only.
Please note: The container and its contents must be disposed of in accordance with country-specific/regional/national regulations
Associated products:
Universal cleaner / 000 096 301C
Leather cleaner / 000 096 323G
Limitations: Only to be used for the purposes for which it was intended, as stated in the accompanying instructions for use. Keep out of reach of children.
Set contents: Cleaning agent in a specially designed container (50 g), microfibre cloth, instructions for use.
Size: 92 x 27 x 27 cm Using: For cleaning the infotainment screen in the vehicle.