GENUINE Skoda Leather key cover (KESSY)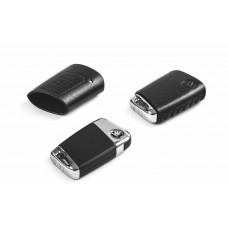 Theme : GENUINE Skoda Leather key cover (KESSY)
item: 3V0087012B
Besides effective protection from being dropped, damage and other everyday dangers, the leather key cover also moves the aesthetics to the next level. The combination of high-quality leather and delicate, precise stitching makes the elegant and luxurious style really shine. Your key will not just be safe, it will also look much better.
Leather key cover (KESSY)
– unique and practical protection for the key from fall, dirt or wear,
– made of high-quality, pleasant-to-touch leather,
– adorned with white stitching and ŠKODA logo,
– elegant design.

Color Black
Material Leather
Color: Black leather, black stitching.
Dimensions 55 mm x 40 mm x 16 mm
Limitations: Only for vehicles equipped with a KESSY.
Set contents: Key sleeve made from leather, instructions for use.
Maintenance: Wipe clean using a leather care product e.g. 000 096 323H and damp cloth as required, and leave to dry.