GENUINE Skoda ENYAQ iV rubber mat black red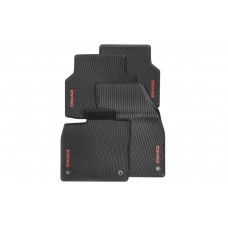 Condition: 100% Brand New
Brand: Skoda
Theme: GENUINE Skoda ENYAQ iV rubber mat black red
Item: 5LA061500B
All-weather mats made from high-quality TPE material are tailor made for the ENYAQ iV electric SUV. They lend its interior even more elegance and their shape fits the footwells perfectly, so they reliably trap all the dirt and moisture. They are anti-slip, easy to maintain and can be cleaned using common household detergents.
Being snap-fastened to the car's floor, these mats provide perfect stability at all times. Each of the four mats in this set is also adorned with the "ENYAQ" lettering.
Like all our foot mats, these have been through rigorous ŠKODA endurance testing, including 30,000 km worth of test driving, which confirmed their high durability and wear resistance.
For safety reasons, we do not recommend layering the mats. When replacing them, it's always necessary to first remove the old mat and install the new one after that.
Color Red Black
Material TPE
Content of set 4 pcs all-weather foot mats with ENYAQ inscription, cover with label and fitting instructions.
Restrictions Only for left-hand drive cars.
Fixing Snap-fastened (with circular reinforced openings) on the floor pins.
Maintenance Common household detergents. Do not use abrasive cleaners or solvents.
Fit: Skoda Enyaq