Abrex Velorex 16/350 (1966) 1:43 Brown with red inserts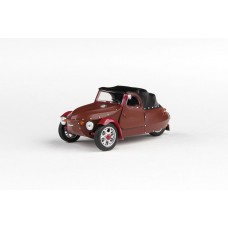 Theme : Abrex Velorex 16/350 (1966) 1:43 Brown with red inserts
item: 143ABS42003, 143ABS-420-03
Age : 14 +
Warning : Choking Hazard
Velorex with a tubular frame covered with leatherette is the only homologated vehicle with a canvas body in the world. It was originally produced in small series by the Stránský brothers, but after nationalization it began to be abundantly produced in the Solnice bicycle factory as a wheelchair for the disabled.
This unique tricycle, with a 350 cm3 engine, became famous for its presence in the iconic feature film Vrchní, prchni! with Josef Abraham and even appeared in the British motor show Top Gear. She got a lot of interesting nicknames among people - rag, snake plan, hadrolet, fleeing tent or montgomerák.
Approximately 15,300 of this tricycle were produced. Its successor was the not very successful four-wheel version, which produced only 1,380 pieces.